Although Day 1 of our trip was a whirlwind of adventure, Day 2 was about to get even better, as we had so much more natural stone to see. If you missed reading about the first day of our trip, you could read all about it here. By the end of Day 2, we realized that the Natural Stone Institute knew how to be incredible hosts. We had one more full day to spend with them before the Vitoria Stone Fair started on Day 3.
Our first stop on Day 2 was Magban. Magban owns their quarries. Their quarries contain granite, marble, and quartzite. We laughed that their showroom was filled with Rorschach tests in the natural stone patterns. If you would like to tell us what you see in the natural stone patterns at Magban, I invite you to leave your comments on our Magban photo album on Facebook.
Seeing all the beautiful patterns in Magban's natural stone selection was not even the best part of visiting them.  Magban giving us the opportunity to watch something called ledge tipping was more exciting. Ledge tipping is when they cut a massive piece of stone from the quarry. Click over to our Facebook page through this link to see this enormous piece of stone come down.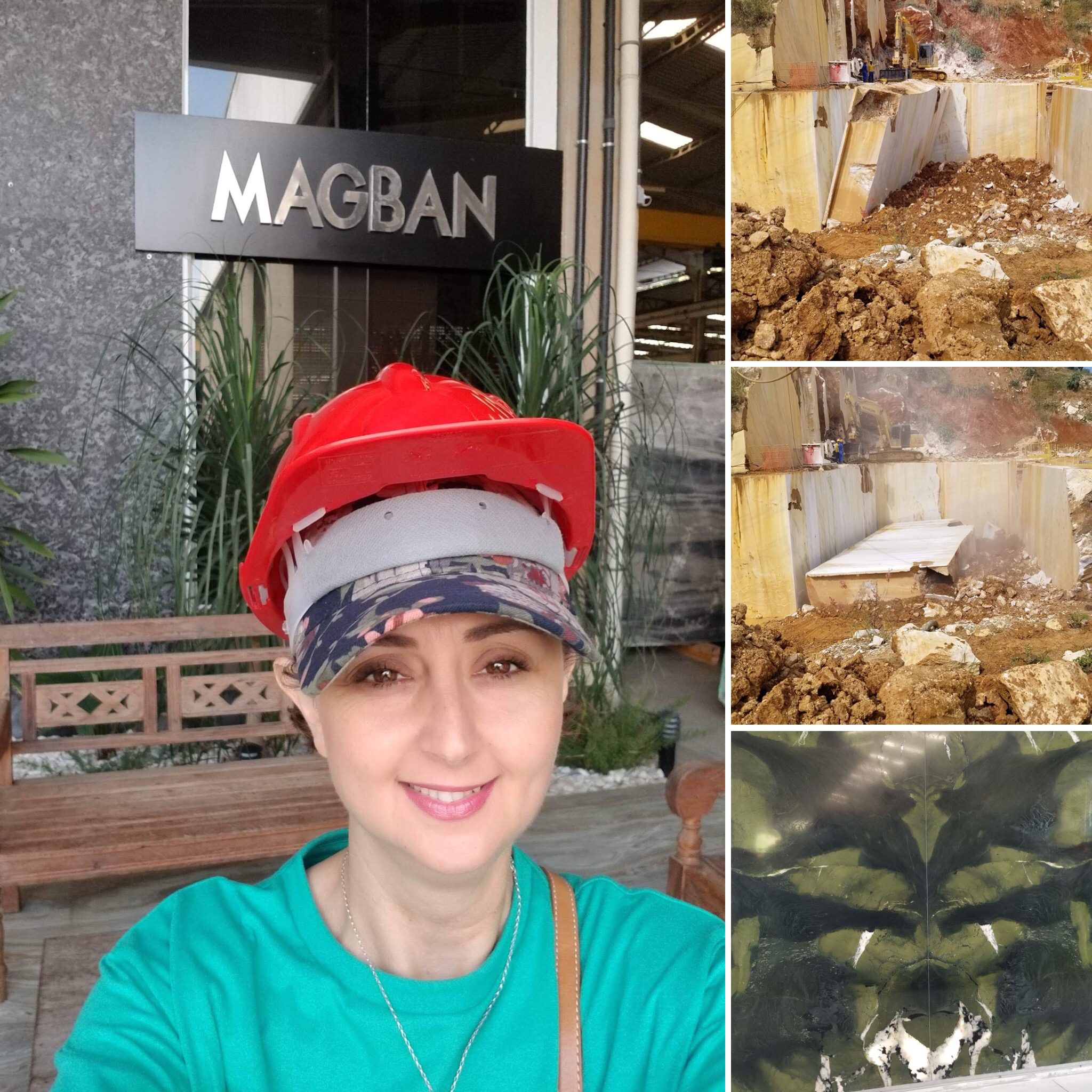 After spending the morning with Magban, we went and visited Decolores Marmores e Granitos, a company founded in 2000. They sell directly to commercial buyers and have a storeroom worthy of 5th Avenue. They sell mainly to the US and Canada. Decolores Marmores e Granitos is also involved in Worldwide Fairs of vital importance, such as Vitoria Stone Fair in Brazil.
With all the fun our group was having to learn about Decolores Marmores e Granitos, we did take the time out to taste some of the most exquisite cuisines. We didn't even have to leave Decolores Marmores e Granitos to have them. Decolores Marmores e Granitos has a beautiful outside restaurant at their facility.  They used the most beautiful granite stones for the counters of the restaurant, and the only thing more beautiful than their counters was the breathtaking mountain behind their facility. Of course, they may not know the name of their breathtaking mountain behind their facility after being in the location for two years. So, we'd love for you to go an name it in our Decolores Marmores e Granitos' photo album.