When I found out months ago, I had won a trip to Brazil to go to the Vitoria Stone Fair 2018 after entering a drawing at NKBA last year; I thought it was a dream. As I was leaving the plane in Brazil, a beautiful reality set in, and I realized it was not a dream, but the first day of a fantastic week-long journey. Moreover, it would not have been possible without Natural Stone Institute.
This blog has to be a series because I saw so much in such a short period. I don't want my readers to miss any of it. First, I learned a bit about why the city of Vitoria holds the Natural Stone Fair. You can learn about Vitoria and how it ships it's natural stone worldwide through their port in our Welcome video with Jim from the Natural Stone Institute.
Next, we visited Mineracao Corcovado Brasigran Granitos. Brasigran's specialty is to cut to size. Cutting to size means if you have a custom project and need different sizes of stone and thickness. They will cut out of the blocks enabling them to cut curved, squares, and in about any shape and size. Their second specialty is dying stone; this is a unique process for them. It gives their customers the option to create one of a kind designs for commercial and residential use. The showroom is like an art gallery, and for fun, they even have a secret door.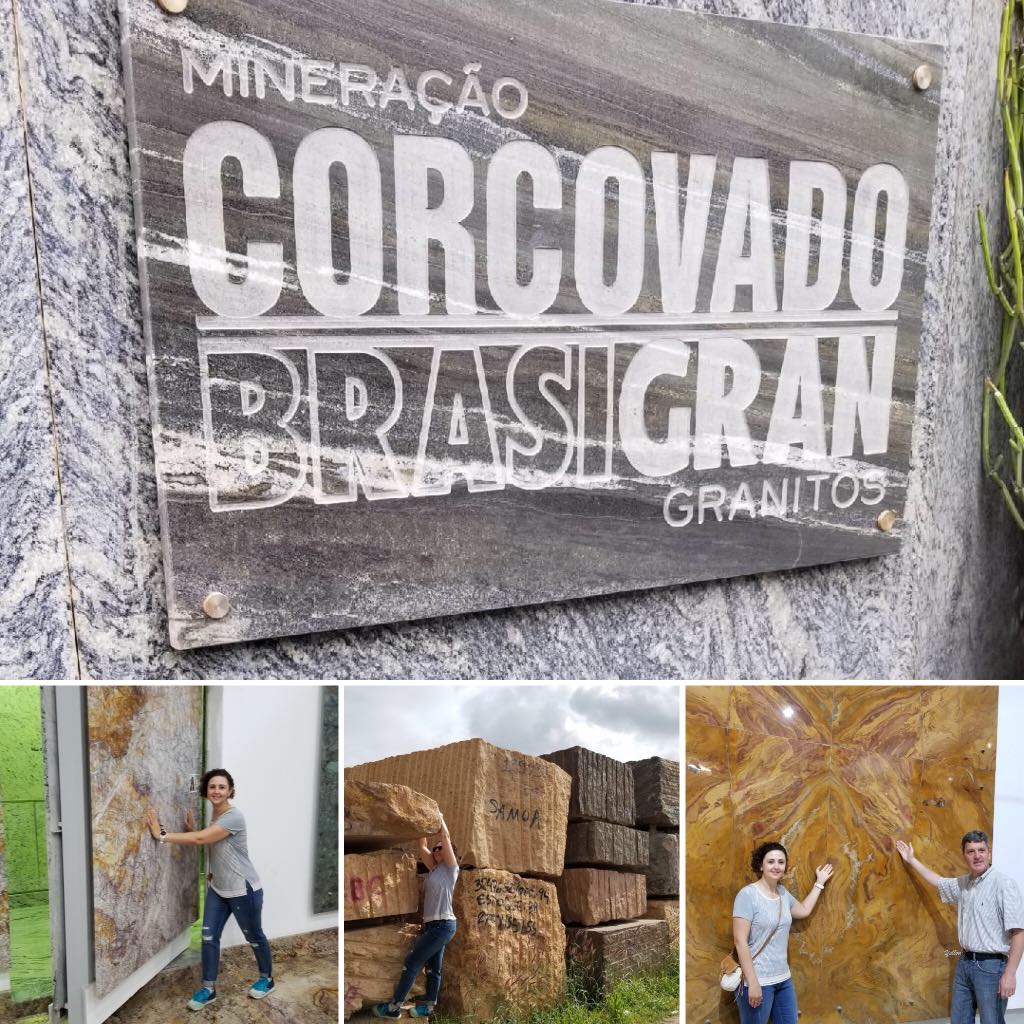 Our next stop was Zucchi Luxury Stone. The company started in 1994 is a leading manufacturing and export business in Brazil. They export their granite to North, Central, and South America, Europe and Asia. Zucchi's specialty is luxury stone. They search high and wide for stones you cannot find elsewhere.  They have a unique QR code marketing model when scanning the barcode; it will give you all the information of the stone. The report includes everything from the quarry it originated to design ideas.
Initially, they started exporting marble from Brazil. Brazil was known for granite and Quartzite, but they have been using marble in their homes and offices for years. When they started exporting marble, they changed the world's market, because marble was now in high demand.
They believe in family and run their business like it's a family. They conduct their business family style around a beautiful table with fantastic home cooked meals and a view like no other. We love that they are big supporters of the Natural Stone Institute and Leonardo, the owner is a board member.
PBA Stones is an American owned construction company that installs 180 kitchens a day! They control quality and consistency of the stone colors and veins. They bought the whole producing system. At PBA you will find consistent types of stones and not much of the exotic stones. Once in a while,  they will have what they call "Opportunity Stones" meaning its only a small unique batch available and they will not be restocking it. Serving the construction industry the consistency is super important because they can track what type of stones are being used in each kind of build and make sure that the right stones are being used consistently throughout the build.  They are also one of the few companies who can sell the whole block to others since they own two quarries and have first pick rights in two other quarries.