Have you finally enough of your small kitchen and ready to remodel? So, make sure you learn what you don't like in your small kitchen to ensure your new design utilizes every space in your small kitchen. When we meet with a potential family whose ready to stop living small, we take into account every inch of space. We take wasted space and use it in a way that allows the homeowner to have a spacious open kitchen.
Since, we are obsessed with kitchens that work with the family's lifestyle that lives there's, here is our input on six ways to optimize your small kitchen,
Use Custom Cabinets – Custom Cabinets allow you to take advantage of every niche in the space, so you don't lose it to filler space and unusable corners. Many times you will see kitchens created where there is a space between the end of the cabinets and the refrigerator, placing a pull-out cabinet there will allow you to utilize it for things like spices.
Accessorize, Accessorize, Accessorize – We realize when most think about accessorizing they think about a well-known fashion tip, but in this case, we are not talking about making sure you have the right earrings and necklace for your outfit. We are talking about the inside of your cabinets and drawers. For instance, adding a double narrow shelf in a pull out drawer for spices. Another great accessory is pegboards in drawers to hold your dishes or pots and pans, leaving more room in your cabinets.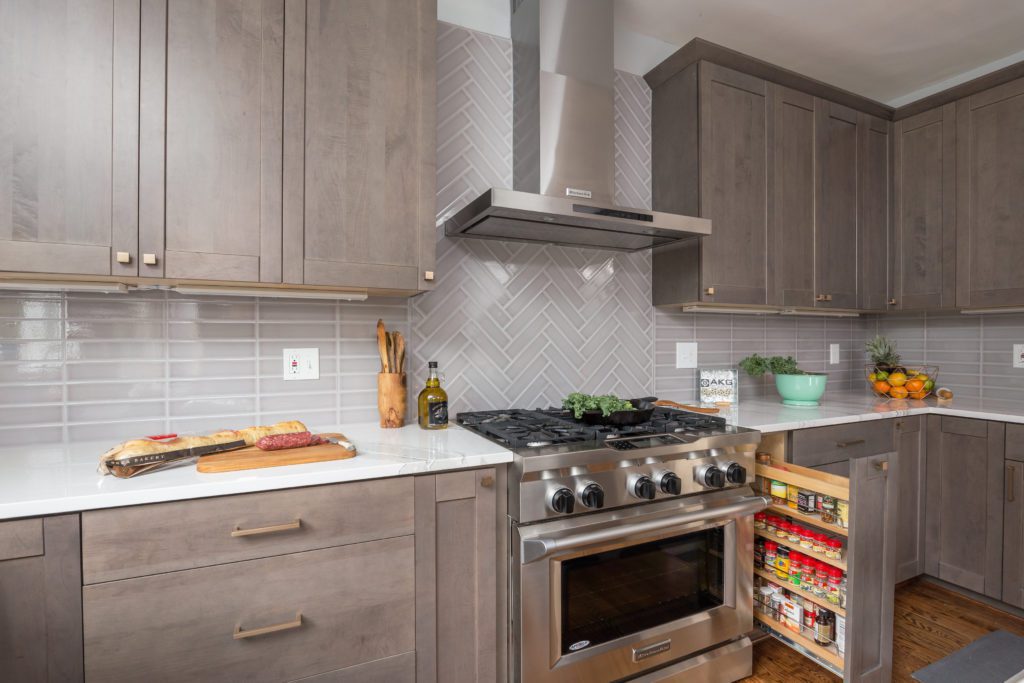 Small Appliances – At one time, we used to call small appliances apartment size appliances, they did not necessarily have the same cooking/cleaning power of your larger appliances. That is no longer true, not only do they give you more counter top and storage and but you can get them without the bulkiness of their stainless steel counterparts. The reality is if Apple can put components of their iPhone into a watch, a mini-microwave can work just as well as their bulky 1980's predecessors.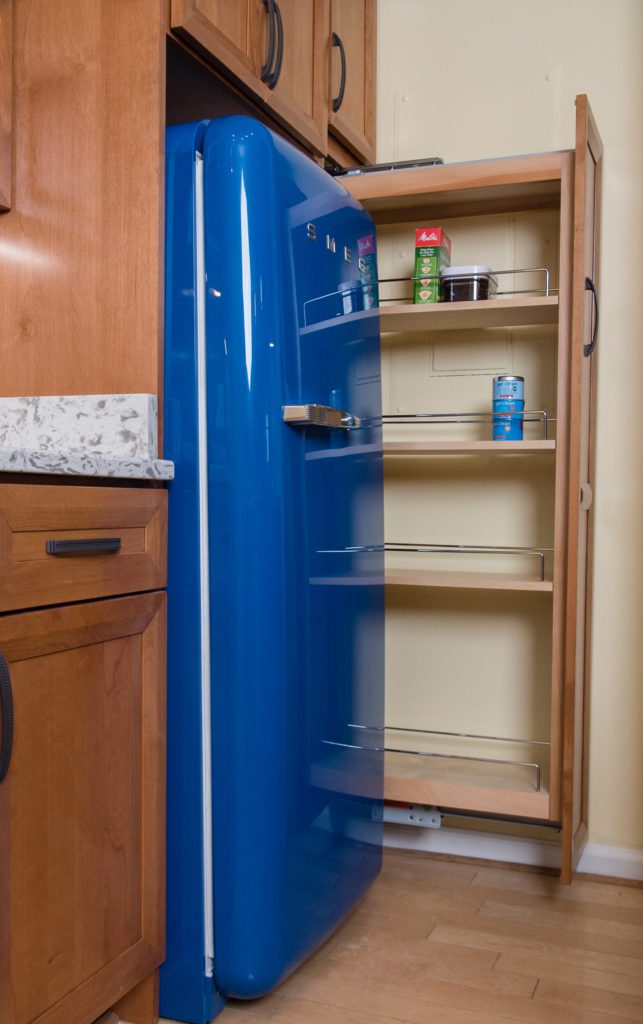 Cover Panels – Have your kitchen look like a seamless larger space by adding a cover panel to your appliances. The other great thing about cover panels, if you don't have time to clean the microwave from the mess you just made heating up the artichoke dip, you can close the cover panel and clean it as soon as they leave.
Knockdown the walls  – The idea is not to lose storage or workspace, but enlarge an entryway or a window. If you have an elevated bar reduce it to counter height because open concept kitchens give the appearance of being large. A bonus of cooks being in a kitchen designed with an open concept is being able to be with family and friends when they are cooking, instead of hiding out of site.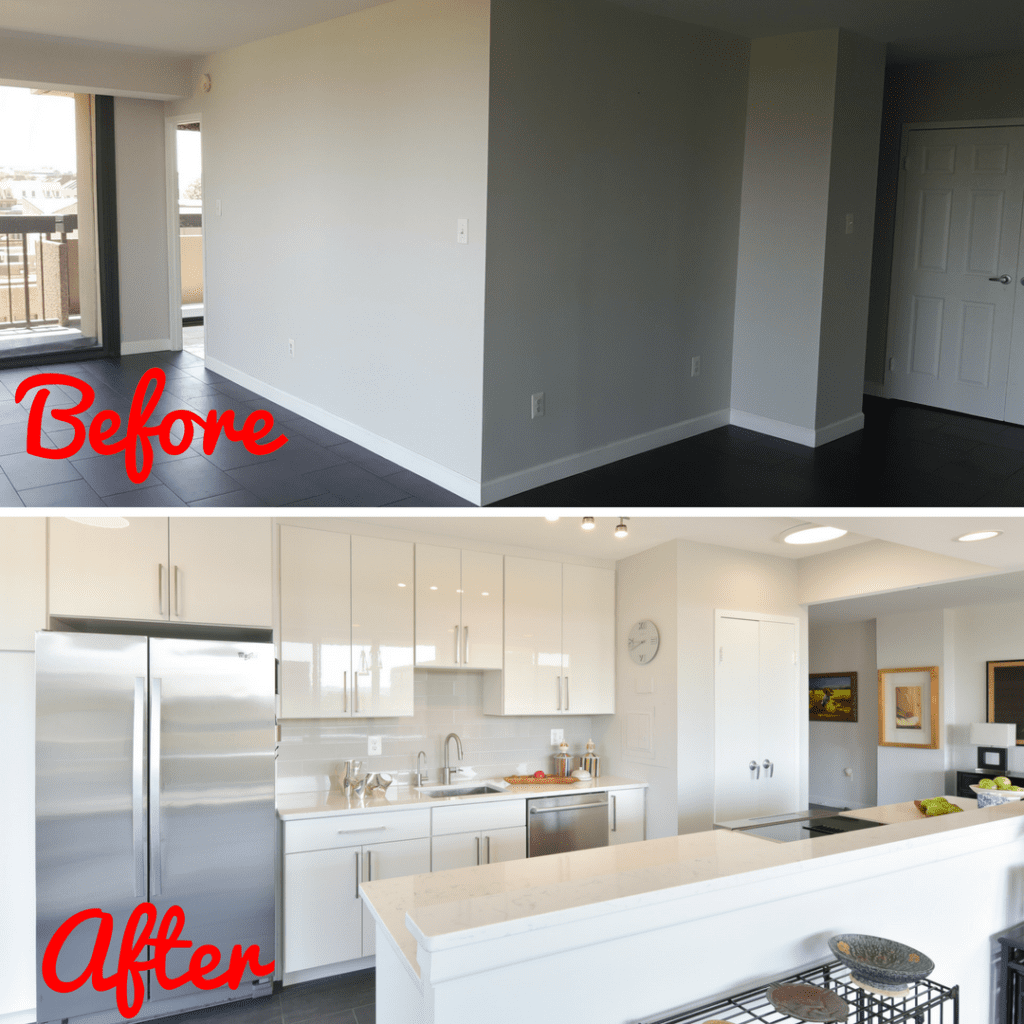 Lighting – Preferably, natural lighting should be the go-to lighting, but if you can't do much natural lighting, we suggest reading our picture blog, Forget the Dark, Think Light & Bright. It shows how each type of lighting helps a kitchen look and feel more spacious.
Your Kitchen Canvas – If you do have wall space, use it as a canvas for floating shelves or magnetic strips for knives an such. Another idea is to use the inside of your pantry as a message board. Other small kitchens utilize the inside of their cabinets as a place to hang things like measuring cups, pot holders, maximizing the number of items a pantry can hold without making the kitchen look cluttered to those enjoying it.