With so many kitchen cabinet styles, it is so hard to choose. Have you wondered why that is, or if they are all created equal? Cabinets come in various levels, and with each level, they vary in style, selection, and value. Moreover, although, you can choose any line out there for your new kitchen project, it is helpful to know what to look for what's right for your home and lifestyle.
CABINET TYPE
The three types of cabinets are stock, semi-custom, and custom. Each of them have different things to offer, we will start with stock cabinets.
Stock cabinets are cost-effective and are available in a limited variety. They are a quick way to give a kitchen a new look and are built in standard sizes. When shopping, you will be able to have a small choice of door styles, colors, and finishes.
Aristokraft is a stock brand that is good if you are looking to refresh a kitchen to sell or flip a home. They are a good value for the style, selection, and delivery time. These will help you bring your remodeled kitchen vision alive.
The next type of cabinets is semi-custom cabinets. They are considered for the mid-range remodel. They come in more styles and are built to order through cabinet dealers. Since they come with more features and options than stock cabinets, they are delivered in four to eight weeks. Semi-custom cabinets help personalize your new kitchen because you can modify cabinet sizes in a limited capacity.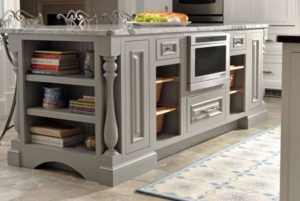 AKG Design Studio carries Kemper and Waypoint for client's our semi-custom solutions. The last type of cabinets is custom. Custom cabinet lines offer the most flexibility when space planning. They have the broadest range of woods, finishing option, modifications, and construction platforms. Decora and Candlelight can build it if you draw it. Their cabinets can be made to spec and modified based on cabinet design choices.
FRAMED AND FRAMELESS CONSTRUCTION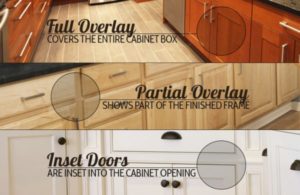 Although, there are more to choose from, framed and frameless are the most popular cabinet styles. Depending on where you are in the world, and who manufactures them, they vary in popularity. While the US prefers framed cabinets, Canada and Europe prefer frameless cabinets.
A wood "frame" can be found around the front outer edge of the cabinet box on a framed cabinet. Framed constructions have a few overlay options for door applications and are considered a bit more traditional.
The types of overlays are:
Partial or traditional overlay — It covers only part of the cabinet and reveals the cabinet frame.
Full overlay — The cabinet doors cover the whole frame for a furniture look.
Inset door — Since the doors are inset into the frame., they have a more modern farm style or upscale traditional look.
Frameless — Frameless cabinets are known to have more of contemporary-style. Since there is no frame, the doors must cover the whole cabinet. Frameless cabinet doors tend to be flat and slick-looking, but you can get some frameless cabinet lines that have more traditional styles. If you choose a frameless cabinet, please tell your contractor before getting their estimate, because they need extra work leveling then, which may add additional labor cost to your final bill.
Next time, we will discuss how to spot a high cabinet and review the different constitution features that each cabinet grade has to offer.
Got questions? Post them below! We would love to hear from you!