As a follow-up to our last blog, Kitchen Cabinets 101, today, we are talking about what cabinets are made of. Most think kitchen cabinets are made of wood, which is mostly right, but cabinets can also be made from other materials.
Below you will find the different types of materials that kitchen cabinets can be made from:
SOLID WOOD
Solid wood implies that the cabinets are made of solid wood all the way through. Some of the better cabinet lines will use solid wood for drawer boxes and rollouts. Othe cabinet makers will use a solid wood face frame. When making panels, cabinet lines will join together more massive slabs of solid wood.
PLYWOOD
To get longevity to their kitchen cabinets, many customers will pay to upgrade their mid-level cabinets to add plywood. Plywood is made with thin wood layers of wood glued together in a sandwich-like form.
The sandwich formation gives the cabinets more stability. The box and shelving are made of plywood in many high-end cabinets.
PARTICLE BOARD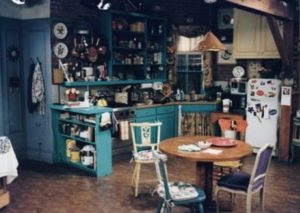 Particleboard is made from wood chips. Cabinet lines use a combination of adhesives and fuse the boards together. Many cabinet makers use this as a starting point of their cabinets. Particle board is known to absorb water quickly which leads to the disintegration of particles.
It is advised not to use particle board cabinets near wet spaces.
MEDIUM DENSITY FIBERBOARD (MDF)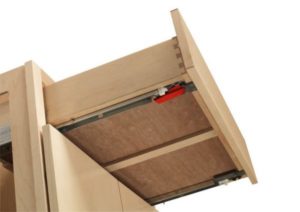 Medium density fiberboard is the fourth most popular material to make cabinets with. MDF is used for cabinet doors, shelves, and cabinet boxes. It has a more delicate texture, is denser and more substantial than particle board.
MDF is easy to paint, as it has no wood grain look to it and is used in a lot pre-fabricated low-end vanity cabinets.
As you shop for cabinets, now that you know what they could be made from, how do you pick a cabinet design that's right for you and your household?
Getting a top-quality kitchen cabinet is like getting good furniture. You will want to look for furniture-type construction of the box, a 3/4-inch solid hardwood front frame (for framed cabinets); thicker, rather than thinner; and box construction of at least 1/2-inch plywood.
We recommend plywood shelving for extra stability. Selecting drawer boxes and rollouts should be solid wood with under mount glides. Most glides are built for at least 100 pounds of weight load and will be mounted under the drawer/rollout for maximum support.
As for the finishing process, cabinet manufacturers have different ways to adhere the finish to the cabinets, and you want it to last long. One of the essential things to know when purchasing cabinets are to ask about their warranty.
Most high-end cabinet manufacturers have lifetime warranties. If you are looking for cabinets and need help picking out the best for your design space and lifestyle, send us a contact form, and we will respond shortly.